Eco Friendly Roof Cleaning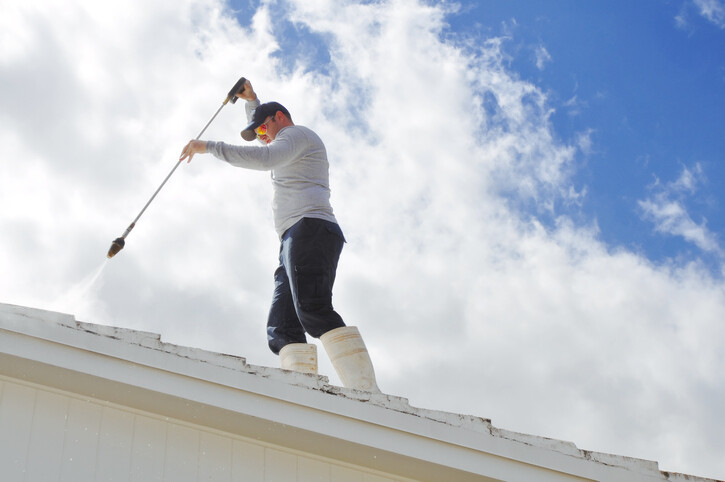 The roof cleaning professionals at A1 Window Cleaning LLC do much more than restoring the look of your roof to its prior clean, like-new condition. We strive to return it to a better condition than before by utilizing only environmentally friendly cleaning products. We pride ourselves on consistently following our sustainable cleaning practices for every roof cleaning job to help make our planet better, greener, safer, and happier while protecting your biggest investment, your family, and your pets.
---
Call for a FREE Quote
---
A1 Window Cleaning LLC's Eco-Friendly Roof Cleaning
No harsh chemicals or toxic cleaning products are used when you call A1 Window Cleaning LLC! Our eco-friendly roof cleaning methods will wash your roof safely and effectively. Since 2018, A1 Window Cleaning LLC has provided professional roof cleaning services to area businesses and residents. When you're in need of safe and effective green roof cleaning, give us a call at (203) 450-4059.
Why Call A1 Window Cleaning LLC
Roof cleaning may sound like a simple job, but if not done correctly, it could damage your roof causing further complications. Our roof cleaning experts at A1 Window Cleaning LLC have over 5 years of experience in properly cleaning all types of roofs - the green way! We use environmentally safe products strong enough to remove all the algae and mold from your roof, but safe enough to avoid causing any damage. We also use methods to ensure all debris is removed without causing damage. While maintaining the integrity of your roof and completing your roof cleaning job, we also offer superior customer service and fair prices. We value each one of our customers, therefore listen to all their questions and concerns and strive to please each one. Call us at (203) 450-4059 and find out how our eco friendly cleaning methods will protect your biggest investment.
Types Of Roofs We Clean
Shingle Roofs
Tile Roofs
Metal Roofs
Slate Roof
Clay Roof
And more
Why Have Your Roof Cleaned?
Why replace your roof if it just needs to be cleaned?
Moss or algae-covered roof shingles absorb heat, which will increase the temperature of your attic and increase your energy bill.
Black stains or unsightly growth on your roof will have a negative impact on the value of your home.
Increase the longevity of your roof by maintaining it.
The rest of your home and landscaping is beautiful, so keep your roof looking just as beautiful.
---
Call for Fast FREE Quote
---