Pool Cage Cleaning
Pressure Washing for Patio Screens, Pool Surrounds, and Lanais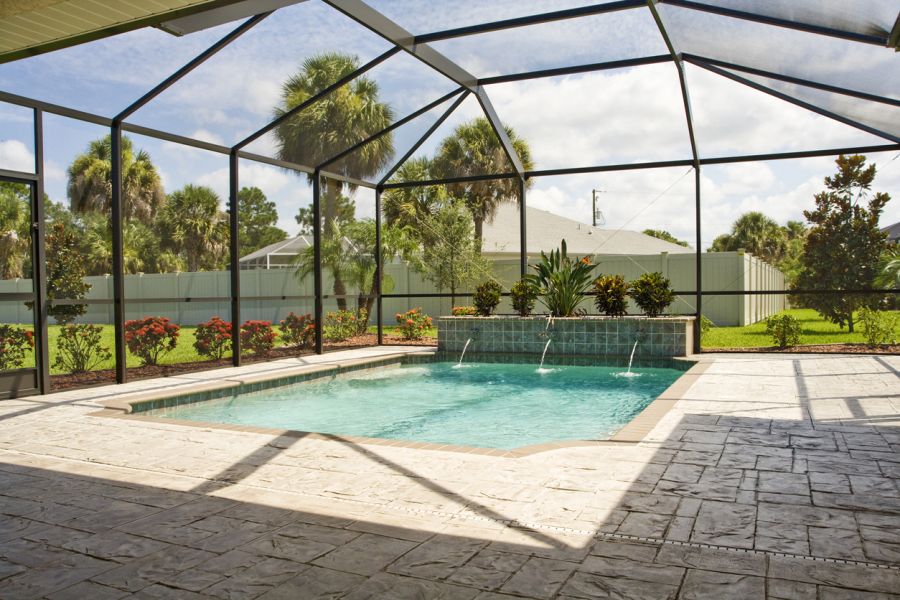 Pool enclosures are great to keep bugs, leaves, and debris from getting inside your pool as well as provide UV protection. Over time, pool cages get dirty from build-up, algae, and more. A1 Window Cleaning LLC provides top-notch pool cage cleaning for residential and commercial properties. Our experienced pressure washers are dedicated to delivering quality results that will leave your pool cage looking like new. Our pool cage cleaning services are effective and affordable. We offer competitive rates and are happy to provide free estimates!
---
Call for a FREE Quote
---
Effective Pool Lanai Cleaning by A1 Window Cleaning LLC
Keeping your pool cage clean and well-maintained is important for both the health and safety of your family and guests. That's why A1 Window Cleaning LLC takes the time to inspect and assess the condition of your pool cage before beginning any work. We'll also provide you with a detailed estimate of the work to be done so you know exactly what you're paying for. At A1 Window Cleaning LLC, we use the latest in pool cage cleaning technology to ensure that your pool cage is cleaned and maintained to the highest standards. Our experienced technicians use specialized equipment to remove dirt, debris, and other contaminants from your pool cage. Call (203) 450-4059 for a free quote.
A1 Window Cleaning LLC's Pool Cage & Patio Screen Cleaning Process
Contact A1 Window Cleaning LLC at (203) 450-4059: You'll want to contact a trusted and preferred pool cage cleaning service to discuss your needs. A1 Window Cleaning LLC provides free quotes and prompt service!

Schedule an Appointment: Once you have discussed your needs with A1 Window Cleaning LLC, we'll schedule a time that works best for your schedule for the cleaning.

A1 Window Cleaning LLC's Specialized Cleaning Process: The pool cage cleaning service will use specialized equipment to clean the screen. This includes pressure washing, scrubbing, and vacuuming.

Finishing Touches: After the cleaning process is complete, A1 Window Cleaning LLC will add a protective coating to the lanai screen which helps protect it from the elements.

Final Inspection: Once the cleaning and sealant are complete, we will perform a final inspection to make sure the cage is clean and free of debris.
Why Choose A1 Window Cleaning LLC for Pool Cage Cleaning?
At A1 Window Cleaning LLC, we are dedicated to providing our customers with the best possible service. Our team of experienced professionals is committed to customer satisfaction, and we strive to exceed your expectations with every job we do. We take pride in our work, and we guarantee that you'll be satisfied with the results. If you're looking for reliable and affordable pool cage cleaning services, look no further than A1 Window Cleaning LLC.
---
Call for Fast FREE Quote
---